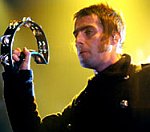 Oasis
frontman Liam Gallagher has claimed he is more "special" than Inter Milan manager Jose Mourinho, who is nicknamed 'The Special One'.
Gallagher told Portuguese TV station Top+ that he was a fan of the former Chelsea manager, but doubted his 'special' abilities.
The singer also said he expected the band to begin work on their next album shortly after the conclusion of their world tour.
"He's a dude and I like him," Gallagher said when asked about Mourinho. "He's cool man. And he's got passion. But he's not as special as me though."
Speaking about the band's next album, Gallagher said he believed the group would be able to complete half of the project if they entered the studio now.
He added: "Personally, after the tour I think we should have a couple of months off - not too long, maybe six months.
"Then I think we should go back in the studio, make another album. But it's not down to me, you know what I mean, because I'm not a solo artist."
Oasis' world tour will call in the UK this summer for a series of stadium shows.
(by Jason Gregory)