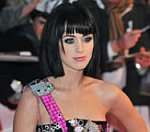 Brit Award winner
Katy Perry
is asking her fans to pray for her so she can recover from a bout of flu ahead of her European tour starting on Sunday.
The 24-year-old singer threw up after the Brits ceremony on Wednesday night (February 17) and dramatically said she might "die" when picking up her Best International Female gong.
Writing on her blog, she said: "I can't tell you how bad I feel right now. Last night I was sweatin' it out... I have the doctor on speed dial if the fever gets over 101/102.
"I thought I was invincible and then my body decides to show me otherwise. I'm stuck in bed for the next couple of days as I should be... I'm gonna go back to sweatsville and try and sleep it off some more... I gotta get better; I'm starting (a) tour on Sunday here (in London)... so say a little prayer if you think of it."
(by Scott Colothan)