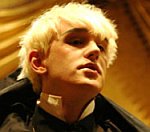 Patrick Wolf
has ditched plans to release his fourth album as a double disc set, fearing it would overload fans with too much music.
Wolf was all set to release 'Battle' via his new label Bloody Chamber Music this summer after raising money for the release on Bandstocks.com.
The album would have been made up of two parts, the first disc called 'The Bachelor' and a second alled 'The Conqueror'.
However, Wolf has now shelved the release of 'The Conqueror' and will instead release only 'The Bachelor' on June 1.
The two albums will apparently be released together at some point in 2010.
As previously reported, 'The Bachelor' features guest appearances from Eliza Carthy, Thomas Bloch, Alec Empire, Matthew Herbert and Tilda Swinton.
Wolf is expected to tour the album in May.
The track listing is: