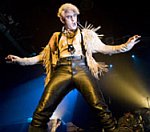 Patrick Wolf
spat and hurled stage equipment at stage hands at a festival in Germany last week.
The singer was angered when security pulled the plug on his set at the C/O Pop festival last Thursday and proceeded to throw a tantrum of epic proportions.
Footage of his strop was posted on Youtube over the weekend.
Clearly seething with rage, after urging the crowd to "riot" Wolf is seen throwing microphone stands and various other pieces of equipment towards the side of the stage.
Not finished, he then sticks his finger up at security before spitting at them.
It's not the first time Wolf has got into trouble this year for spitting. In June he was arrested after getting into an altercation with a bouncer in San Francisco.
Speaking on Twitter, Wolf said: "Was arrested by San Fran police for spitting in a bouncer's face in protection of myself. Was almost shot in the face by a policeman. WTF?
(by Scott Colothan)