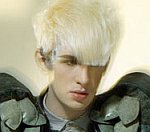 Patrick Wolf
was arrested in San Francisco on Monday night (June 8) after he got into an altercation with a club bouncer.
The 25-year-old singer performed a show at Slim's live music club when things seemingly turned ugly.
Writing on his Twitter page, Wolf said: "Was arrested by San Fran police for spitting in a bouncer's face in protection of myself. Was almost shot in the face by a policeman. WTF?
"Was told by the policeman 'take your shitty ass music out of this city and if you ever step off that tour bus you will be ***** ******** " '"
He continued: "Feeling very Thelma and Louise right now.. must sleep... not allowed off the bus or I will be shot by a policeman. this country is insane!!!"
Another Tweet said: "Btw. apparently my spit DEFINITELY contains "hiv, swine flu and hepatitis" that is why my spit is a deadly weapon according to police here!"
(by Scott Colothan)