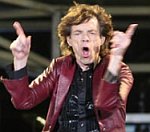 Sir
Mick Jagger
believes that British music is enjoying one of the most fruitful times ever.
Speaking about the Grammy Awards, where British acts scooped an impressive 16 gongs, the veteran Rolling Stones says UK acts are now in a golden age.
He enthused to The Sun: "With British acts doing so well at the Grammys last week it's proving to be a great period for home-grown talent right now.
"And what is so refreshing is the different styles that have been recognised — Coldplay, Duffy, Adele and Radiohead make up an eclectic bunch, proving there's a lot of fresh British talent out there.
"I like that these acts have paid their dues in the way we had to. There is certainly an upsurge of diverse Brit acts breaking through in the US and overseas — good to see it. Long may it continue."
(by Scott Colothan)