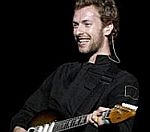 American guitarist
Joe Satriani
, who is
suing
Coldplay
for copyright infringement, will serve the band at this weekend's
Grammy Awards
, his lawyer has said.
Howard King said a fleet of process servers would "dog the band" in Los Angeles in order to ensure they are handed legal papers.
Joe Santriani filed a lawsuit against Coldplay in December claiming their 2008 hit 'Viva La Vida' borrowed "substantial original portions" from his 2004 song 'I Just Wanna Fly'.
Satriani is seeking jury trial, damages and "any and all profits" linked to the track.
In a statement on their website Coldplay denied the accusation, saying that any alleged similarity between the two songs was "entirely coincidental".
"With the greatest possible respect to Joe Satriani, we have now unfortunately found it necessary to respond publicly to his allegations," Coldplay said.
Coldplay are among the favourites at this weekend's Grammy Awards with seven nominations, including one for 'Viva La Vida'.
Last December, Satriani said he had tried "everything" to prevent the case going to court, "but Coldplay didn't want to talk about it".
He added when he first heart Coldplay's 'Viva La Vida', "I felt like a dagger went right through my heart. It hurt so much."
(by Jason Gregory)