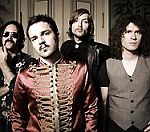 The Killers
frontman Brandon Flowers has said the band are ready to usurp
U2
as the biggest rock group in the world.
Flowers said that his "drive bordering on obsession" meant the group wouldn't rest until they had reached their goal.
"U2 are unbelievable, but they're getting old," Flowers said. "It feels like it's time."
He added: "We wanna see where this will take us. It doesn't make any sense to place restrictions.
"We write these songs as human beings, and they affect us, and we put them out there in the hope that they will affect other human beings, that they transcend any limitations."
As previously reported, The Killers are expected to claim the top spot in this week's UK album chart with 'Day & Age'.
Midweek sales indicate that the Las Vegas group will hold off a challenge from Guns N' Roses 'Chinese Democracy'.
(by Jason Gregory)