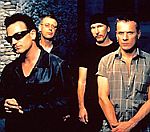 U2
frontman Bono has paid tribute to record executive Rob Partridge, who has died following a two-year battle with cancer.
The singer praised Partridge for being the first person in the British music industry to "sing our praises".
Partridge signed U2 to Island Records in 1980 and remained their publicist and a friend of the frontman.
Bono added: "He not only had an eye for upcoming talent, he was a nurturer... a person who would educate you about the kind of obstacles you were going to meet and how to get over them... a rare human being."
Patridge's role as Head of Press meant he was also responsible for such artists as Grace Jones, Bob Marley and Tom Waits.
As previously reported, U2 are currently completing their new album, which is due to be released in early Spring 2009.
(by Jason Gregory)