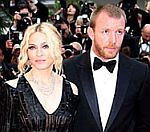 Madonna
has admitted that her singing career has helped to deflect her thoughts from her
recent divorce
.
The singer ended her seven-and-a-half year marriage to film director Guy Ritchie in the High Court last week.
Despite the huge media interest in the couple's settlement, the singer has continued to perform North American dates on her Sticky & Sweet world tour.
Speaking to the Associated Press news agency, Madonna said: "I'm sad about my personal life, but I feel very blessed and very lucky that I have the opportunity to do what I do in my professional life.
"It would be horrible if I was just thinking about getting a divorce and had nothing to do."
Last Friday, a sworn statement revealed that Madonna divorced Ritchie on the grounds of his unreasonable behaviour.
The singer's petition said Ritchie's behaviour was continuing and that they had not lived at the same address for six months.
(by Jason Gregory)