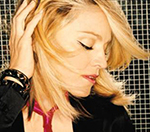 Madonna
has revealed that she is ready to being work on new material.
The singer, whose last album 'Hard Candy' was released in 2008, used her Facebook page to launch an appeal for new collaborators.
"It's official! I need to move. I need to sweat. I need to make new music! Music I can dance to," she said. "I'm on the lookout for the maddest, sickest, most bad ass people to collaborate with. I'm just saying."
Madonna has been on a musical hiatus this year while embarking on other ventures.
Last month, she opened the first of series of fitness centres in Mexico City.
(by Jason Gregory)