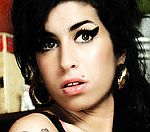 Amy Winehouse
was admitted to hospital over the weekend after falling ill at her home in North London.
The singer's spokeswoman told AFP she had suffered "a bad reaction" to a combination of prescribed medication.
The news comes amid tabloid reports that the singer had an angry bust up over the telephone with her husband, Blake Fielder-Civil, on Sunday (November 23rd).
Winehouse has suffered a string of illnesses throughout 2008, and was diagnosed with traces of the lung disease emphysema in June.
As previously reported, Fielder-Civil lost an appeal yesterday (November 24th) against his prison sentence for assault of a pub landlord.
Winehouse's husband, who is currently undergoing a course of rehab in Surrey, told the court he was "disappointed but not really surprised".
Referring to Fielder-Civil's current stint in rehab, Mr Justice Pitchford said it was only if "these attempts are successful that he has a worthwhile future".
Tabloid reports over the weekend claimed Winehouse has admitted that their marriage is over amid reports Fielder-Civil has begun dating a German model.
(by Jason Gregory)