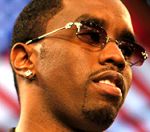 Diddy
is ready to break out his acting skills once again and appear on popular American television show CSI: Miami.
The rapper will be taking on the role of a prosecutor who does not get along with David Caruso's character on the show, Horatio Caine, for two episodes set to air in mid to late winter.
Diddy has previously appeared on the made for television movie 'A Raisin In The Sun' as well as a role in the movie 'Monster's Ball' in 2001.
(by Victoria Tsigonis)