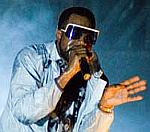 US rapper
Kanye West
has revealed that the
Red Hot Chili Peppers
are his favourite group.
West said he was attracted to the American rock band because of their strong melodies.
"I think of melodies, I think of really strong melodies and stuff," he said in an interview with the BBC.
"You know, [Red Hot Chili Peppers'] Anthony Kiedis wasn't the best singer in the world, but that's my favourite group."
As previously reported, West hit out at the paparazzi over the weekend after he was arrested in Newcastle for an alleged altercation with a photographer.
West called for the introduction of a law that would prevent members of the paparazzi from selling his picture.
(by Jason Gregory)