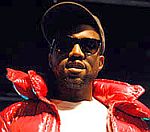 US rapper
Kanye West
has called for the introduction of a new law that will put restrictions on the freedom of the paparazzi.
West said photographers shouldn't be allowed to sell a picture of him without permission.
"Right now the paps are above the law and the people they shoot are below it," he wrote on his website.
His comments come just days after the rapper was arrested following an alleged altercation involving a paparazzo in Newcastle.
In a post entitled 'Who's Winning, Me or the Media?' West wrote: "Regardless of how much light I put out, there are people working just as hard to only deliver darkness.
"If you listen to my music, how could I deliver so many positive uplifting messages and be the monster that the media paints. paparazzi give real photographers a bad name.
"A picture is worth a thousand words, theirs are worth a thousand dollars."
West said his proposed law would prevent photographers from invading a person's privacy in a bid to land the "money shot".
He added: "The personal problem I have with the paps is when they try to catch you being a regular person. I am not a celebrity. I'm a normal person that's just famous. I refuse to sneak in and out of back doors and kitchens of hotels etc..."
West also spoke in detail about the circumstances surrounding his arrest in Newcastle in the early hours of Friday morning.
The rapper said he had only held his hand up to "cover the lens" of the photographer, adding: "My security yelled, 'get the camera off him'. I guess in all the commotion the camera scraped his nose."
In September, West and his road manager, Don Crowley, were both arrested and charged over a similar incident involving two photographers at Los Angeles International Airport.
(by Jason Gregory)