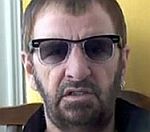 Former
Beatles
drummer
Ringo Starr
is reported to have told a fan to "fuck off" at an awards ceremony in Monaco.
The incident is said to have happened after Starr collected a Diamond award on behalf of the band at the World Music Awards.
An unnamed source told the Daily Mirror newspaper: "A middle-aged woman ran over and threw her arms around him, almost knocking him over.
"Ringo was a bit shocked, he just wanted to get away. After he shouted at her" - reportedly saying "Get off me. Fuck off." - "she looked absolutely stunned, but he just walked away."
Starr caused controversy recently when he told his fans to stop sending memorabilia for him to sign.
In a video message on his website, the drummer claimed he was too busy to deal with requests – and that anything sent after October 20th would be "tossed".
(by Jason Gregory)