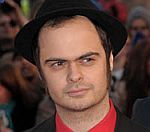 Kaiser Chiefs
keyboardist Peanut has undergone an emergency operation to have his appendix removed in Brazil.
The musician fell ill during the band's South American tour and was taken to a hospital in Sao Paolo to be treated last Thursday (November 6th).
A statement from the band said: "The operation was a success, he's OK, and managed to play with us at Planeta Terra in Brazil on Saturday night, but he's unable to fly to USA until Wednesday."
Kaiser Chiefs are scheduled to perform in Los Angeles and tape an appearance on The Tonight Show with Jay Leno without Peanut.
"It will be our first ever gig missing one of the band. Something unique for LA," the statement added.
Peanut is expected to rejoin the group in time for their show at Chicago's Metro on Thursday (November 13th).
(by Jason Gregory)