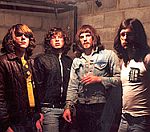 Kings of Leon
star Jared Followill has revealed that he is a big fan of
Glasvegas
– but says he finds it hard to understand what the Scottish band are singing.
In an interview with the New York Times, Followill called the group, whose self-titled debut album topped the charts earlier this year, "incredible".
"They look like a band you stumble into in Nashville; they're playing rockabilly music, not like run-of-the-mill rock stars," he said.
"It reminds me of music we listened to when we were growing up, oldies like Tommy James And The Shondells.
"[Their album] has a beautiful old sound, the way they use so much reverb on the vocals and guitars."
He added: "I can't always understand what he's [singer, James Allan] saying but the music they put behind it makes it really relevant. Somehow it makes sense."
Glasvegas played a special show at London's Union Chapel over the weekend as part of the Mencap Little Noise Sessions.
(by Jason Gregory)