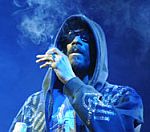 US rapper
Snoop Dogg
and 3D of
Massive Attack
have collaborated on a new song entitled 'Calling Mumia'.
The track paints a picture of the life of political activist Mumia Abu Jamal, who is on death row in America.
Jamal was jailed for allegedly murdering a Philadelphia policeman.
'Calling Mumia' features on the sound track to the film In Prison My Whole Life and can be heard on Massive Attack's website.
(by Jason Gregory)