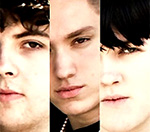 The xx
's Jamie Smith is set to release a remix album of songs by
Gil Scott-Heron
.
The musician and producer has re-worked 13 tracks from the singer's critically acclaimed latest effort, 'I'm New Here'.
The album, 'We're New Here', will be released on February 21 on on CD, vinyl box set and digital-download.
Meanwhile, the first single to be taken from the release, entitled 'NY Is Killing Me' is available to buy now on werenewhere.com.
Scott-Heron's original album 'I'm New Here' was released in February earlier this year.
(by Jason Gregory)