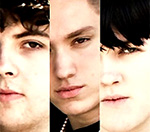 The xx
are set to turn on the Christmas lights in Putney in London next month.
The Mercury Prize-winning band, who formed after meeting at the borough's local Elliot School, will join locals at the event on December 3.
The Putney Christmas market will open at 3pm, with the lights ceremony due to take place at 6pm.
The band fiN will also perform at the event, according to Wandsworth Borough Council.
Locals will be able to indulge in mulled wine, food and stalls selling a wide range of items including festive-themed gifts.
The xx are currently on hiatus ahead of starting work on the follow-up to their self-titled debut.
(by Jason Gregory)