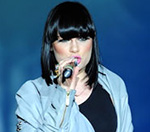 Jessie J
has warned her fans about binge drinking after being left "shocked" by the the crowd at a gig in Dublin.
In a message on Twitter, the Essex-born singer, who does not drink for medical reasons, expressed her surprise at how drunk a number of the crowd were at Trinity College.
After coming off stage, Jessie J called the gig "one of the hardest gigs to date", adding: "To see so many people so drunk they couldn't even stand."
Her tweet sparked several critical comments from her followers, one of whom said she should "be thankful" to be on stage.
In response, Jessie J said: "I was just shocked at how intoxicated they were and I was genuinely worried for them. I'm not used to it that's all. And its not just in Ireland its everywhere.
"As a non drinker, I just wanna spread the msg that binge drinking is dangerous."
(by Jason Gregory)