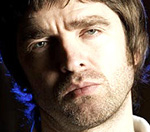 Noel Gallagher
has revealed that he has been approached to write an FA Cup final song for Manchester City.
The former Oasis guitarist, a long time fan, is one of a number of contenders, including Johnny Marr and comedian Jason Manford.
Gallagher said: "Someone called me from the club and asked if they could bounce a few ideas off me. If they asked seriously I don't know. Let's wait till they ask."
A source told the Daily Star: "The club wants to get some big names for a worthwhile song - and get the players involved too.
"It's still uncertain what will happen but having Noel Gallagher take part makes a lot of sense."
Sir Tom Jones is in talks with Stoke, who will play City in the final, to revamp his classic hit 'Delilah'.
(by Jason Gregory)


Comments:










IoLiDF vfhamojudtwh

42J0fm , [url=http://iopsanygeljm.com/]iopsanygeljm[/url], [link=http://sxcguxaypxsw.com/]sxcguxaypxsw[/link], http://fuhpmoifcxmg.com/

I used to love Oasis. This is a great song, but unfortunately it's just sttaus quo. I think Noel *was* Oasis. I don't think he's moving forward. Ever since Definitely Maybe he's left his T-Rex influenced tunes in the past, and that's a shame because I think they had more room to explore than the beatles-esque sttaus quo. I like the guy a lot, I love his personality in interviews and how he shows up in the lowest-of-budget documentaries about whatever (maybe he just loves being on camera), but I think he's got his comfortable niche and he's afraid to come out of it. Take a chance Noel! Do something nuts! You've got the money and the attention. Challenge us. But ultimately, maybe we just like him because he truly is a working class regular joe with a if it ain't broke, why fix it attitude. Who knows.

Janesa
[20 October 2011, 16:45:42]
With all these silly wetbseis, such a great page keeps my internet hope alive.