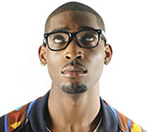 Tinie Tempah
has revealed he recently listened to one of his own songs while enjoying an "intimate moment" with a girl.
The British rapper said he was "entwined" with the unidentified female when his song 'Wifey' came on his iPod shuffle.
"It's a nice mix of different types of music, some fast and some slow. It works well for the situation," he told The Sun.
"But suddenly 'Wifey' comes on. And the lady is looking at me like, 'Did you plan this to happen? Is this something that turns you on more?'
"I could see it in her eyes that this moment was awkward for me and a turn-off for her."
Tempah said he tried to turn the song off but was unable to detach himself from the woman.
He added: "It was only three minutes of a 20-hour session. Joking on last bit."
(by Jason Gregory)