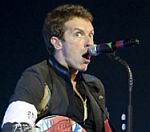 Coldplay
frontman Chris Martin has suggested that one of the band's first songs was heavily influenced by
Jeff Buckley
.
In an interview with the BBC, Martin said 'Shiver', which featured on the band's debut album 'Parachutes', was "a blatant Jeff Buckley attempt".
"Not quite as good, that's what I think. We were 21 and he was very much a hero, and as with those things it tends to filter through," Martin added.
As previously reported, Martin also said in the interview that 'Violet Hill', a track from their most recent album 'Viva La Vida or Death and All His Friends', had been inspired by The Beatles.
(by Jason Gregory)