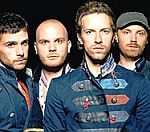 Coldplay
frontman Chris Martin has claimed that the group have split at least six times on their current tour – but always managed to settle their differences.
In an interview with the Mirror newspaper, Martin said the band's most recent split came after it emerged they were being sued by an American guitarist for alleged copyright infringement.
"We have split up on this tour. Every time we do, we get back together about 20 minutes later - we don't even have time to announce it," Martin said.
"How many times has it happened this tour? Probably six or seven.
"Each time we say, 'This is it! This is the last show!' But then you have a fun show and everyone shuts up. The last time it happened... well, even our publicist wouldn't have found out about it."
Earlier this month, Joe Satriani, filed a lawsuit claiming that the band's hist single 'Viva La Vida' borrows "substantial original portions" from his 2004 instrumental track, 'If I Could Fly'.
Coldplay have since rejected the claims, saying that any similarity between the two tracks is "entirely coincidental".
Speaking to the Mirror, Martin said that whenever he receives bad news he always quits "for about ten minutes".
He added: "I'm trying to think when the last bit of bad news was. Well, putting things into perspective, there hasn't been anything that bad for a while. I'm supposed to be getting divorced, we're supposed to be getting sued... but those things aren't happening so don't really count as bad news.
"If my publicist calls me then I know it's bad news."
As previously reported, Coldplay were joined by actor Simon Pegg in London over the weekend.
(by Jason Gregory)