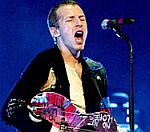 Coldplay
cold split before the end of 2009, according to frontman Chris Martin.
In an interview with the Daily Express newspaper, the singer, 31, said he didn't think any band should keep going past the age of 33.
"So, we're trying to pack in as much as possible. Up until the end of next year, we'll just go for it in every sense," he said.
"I don't believe in time off. We've still got most of our hair, we can still fit into our musical trousers and we've got to make the most of that."
As previously reported, Martin hinted last week that the band could play London's Wembley Stadium next year after plans for a concert at Knebworth house fell through.
(by Jason Gregory)