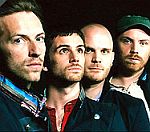 Coldplay
are giving their most ardent and patient fans the chance to listen to tracks from their upcoming 'Prospects March EP' ahead of its release on November 24.
To listen to the clips you need to head over to the band's website where you have to navigate to a page where you bizarrely ask a string of questions to a glass of water.
Once you've worked out how it works the snippets apparently appear. I, sadly, didn't have the time or the patience.
The band say on their website: "If you're really lucky (or patient), you'll get to hear exclusive clips from four of the songs on the forthcoming Prospekt's March EP."
The full track-listing for the 'Prospects March EP' is as follows:
Life In Technicolor II

Postcards From Far Away

Glass Of Water

Rainy Day

Prospekt's March/Poppyfields

Lost+

Lovers In Japan (Osaka sun mix)

Now My Feet Won't Touch The Ground

(by Scott Colothan)







See also:

Eminem, Muse, Coldplay, Foo Fighters To Play Lollapalooza Festival 2011

(26.04.2011)

Beyonce To Be Joined By Jay-Z, Kanye West, Chris Martin At Glastonbury Festival 2011?

(14.04.2011)

Coldplay's Chris Martin Covers Oasis At Secret London Gig

(14.04.2011)

Coldplay, Muse and Blur 'Asked To Write London 2012 Olympics Anthem'

(08.04.2011)

Coldplay's New Album Nearly Complete

(30.03.2011)

Coldplay, Bono Give Radio 1 DJ Jo Whiley Emotional Send-Off

(28.03.2011)

Coldplay To Co-Finance New Ray Winstone Film 'Ashes'

(18.03.2011)

Coldplay, The Strokes Join Oxegen Festival 2011 Line-Up

(09.03.2011)

Coldplay New Album Not Being Released In October

(07.03.2011)

Liam Gallagher Slams Coldplay's Chris Martin After Roger Daltrey Singing Advice

(01.03.2011)

Coldplay Secured T In The Park 2011 Slot Via Text Message

(23.02.2011)




Coldplay. All news for this artist