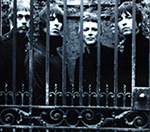 Beady Eye
have revealed that they plan to start to work on their next album as soon as they have finished touring.
The band, who released their debut 'Different Gear, Still Speeding' last week (February 28), said they are already planning their second album.
"We've got lots of songs, man. As soon as the tour wraps up we're gonna write another record. We're not going to stop," Liam Gallagher told BBC Radio 2.
He added: "Our musical path carries on, we feel we're getting better. We're not getting any younger, but we want to be out there making music - sitting at home talking about it doesn't do it for me."
Beady Eye have announced details of a full UK and Ireland tour set to take place in April.
(by Holly Frith)