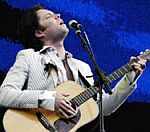 Singer
Rufus Wainwright
is writing an opera for the New York Metropolitan Opera, it's been revealed.
The production, entitled Prima Donna, follows a day in the life of an opera singer.
Speaking to Variety Magazine, Wainwright said his production would show "the construct of the diva, from Maria Callas to Norma Desmond, and the Jean-Jacques Beineix movie Diva, from the 80s.
"And God darn it, there's a bit of me in that too," he added.
As well as composing the music, Wainwright will also write the opera's libretto in French.
The singer said that he'd wanted to write an opera since the age of 14 "but I couldn't find a story that I could wrap my head around."
It's not yet clear when the production is expected to open.
(by Jason Gregory)