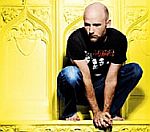 Speaking exclusively to Gigwise, dance veteran
Moby
has expressed his bafflement at why so many people hate him.
The 42-year-old New Yorker said that the hatred is disconcerting because these are largely people he has never met. He also refuted claims that he is self-righteous through his outspoken views on politics, world climate and other such pressing issues.
Somewhat dejected, he said: "Some people seem to like me and some people seem to hate my guts, which is strange. I mean, it's a very strange phenomenon being hated by people you've never met.
"Every now and then someone will forward me a review or something, and it will be by some journalist that just seems to hate me and everything I do, and it's disconcerting because I've never met this person. I don't know what's wrong with me that I can inspire such loathing in people I've never met."
Moby continued that most of the venom comes from sections of the British public rather than his native America.
"It seems a particular problem in the UK, because a lot of people in the UK seem to think I'm some kind of self-righteous moralist, and actually nothing could be further from the truth.
"In terms of being self-righteous about veganism or whatever, I challenge anyone to find anything I've said in the last ten years that's self-righteous or moralising. I mean I am honest, I am outspoken about politics, but if you go to any bar you can find a drunkard that's self righteous about politics."
He finished: "I have no problem if people hate me, but it seems a little strange when people hate me for the wrong reasons."
Moby's new album 'Last Night' is available to download right now. The physical version hits the shelves on May 12.
(by Scott Colothan)