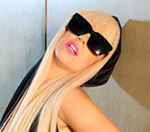 Lady Gaga
has revealed that she would like Marisa Tomei to play her in a film.
The singer, whose new single 'Born This Way' became the 1000th number one on the US Billboard Hot 100 chart last week, has said that she would want actress Marisa Tomei to play her in a film.
"I've always been a big fan of Rosario Dawson. Oh, you know what? I would have Marisa Tomei play me. I am such a Marisa Tomei fan," Gaga told The Morning Mash Up radio show.
She added: "All my friends call me Marisa when I get angry because my New York accent just flies out of my body and I start smacking my gum."
When asked if she would ever consider acting Gaga said: "I think at some point, yes. I think I'm sort of destined for that screen at some point."
(by Holly Frith)