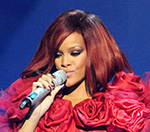 Rihanna
celebrated her birthday in style with the help of some celebrity friends.
The singer, who turned twenty three yesterday (February 20), played to a packed audience at the NBA All Star game in Los Angeles.
Rihanna performed tracks 'Rude Boy', 'Only Girl (In The World)' and 'S&M' before being joined on stage by Drake for 'What's My Name'.
Jay-Z, Kanye West, Nicki Minaj and Bruno Mars were all present to watch Rihanna's performance.
Last week at the BRIT Awards Rihanna picked up Best International Female beating Katy Perry and Alicia Keys.
(by Holly Frith)