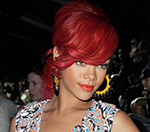 Rihanna
has opened up about her relationship with her estranged father.
The singer, who made music history this week, has spoken about how her drug dependant father didn't stop her music career.
"My dad left home when I was nine, so I was really young when I was living with his addictions. I didn't understand exactly what was going on but I knew he was doing something he shouldn't," Rihanna told The Sun.
She added: "My father's life was fairly chaotic and, partly because of his drug problems, there was never much money.
"My mum worked as an accountant and a lot of the time I was left in charge of my younger brothers. It didn't feel like a burden. It was just reality."
Meanwhile, Rihanna has said that she couldn't keep her hands off Nicki Minaj when they recorded a music video at the weekend.
(by Holly Frith)