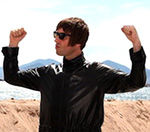 Beady Eye
have unveiled their new single 'The Roller', which is due out next month.
The track, which is the group's first single proper, is available to listen to now by scrolling ot the bottom of this page.
It is due to be released on seven-inch vinyl and digital-download on February 21, and is the first song to be taken from the band's debut album 'Different Gear, Still Speeding'.
Beady Eye consists of Oasis's former line-up minus guitarist and Liam Gallagher's brother, Noel.
In an interview earlier this week, Gallagher called the album "amazing" and said he hopes it will surprise fans. It is released on February 28.
Beady Eye - 'The Roller':
(by Jason Gregory)