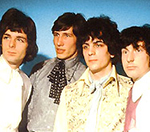 Pink Floyd
have signed a new deal with EMI after ending a legal battle with their record company.
Last March, the group recently won a court ruling against EMI which centred on how the record label marketed the band's music online.
But today (January 4), EMI have confirmed that Pink Floyd have signed a new five-year deal.
"All legal disputes between the band and the company have been settled as a result of this new deal," the record label said.
EMI chief executive Roger Faxon added: "Pink Floyd are one of the most important and influential bands of all time and I know I speak for everyone at EMI when I say that it is a privilege to have the opportunity to work with them."
Pink Floyd signed with EMI in 1967 and are one of the record label's most profitable acts.
In recent years, EMI has lost a number of major names, including Radiohead and The Rolling Stones, following its sale to private equity company Terra Firma.
(by Jason Gregory)