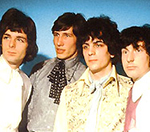 Pink Floyd
drummer Nick Mason has hinted that the band may reunite for a series of charity gigs.
Mason said the group were considering repeating a similar concept to their last performance at Live 8 in London in 2005.
He told the BBC that they could do "something that's not necessarily for us, but do something for the right reasons and enjoy doing it."
"That's what I'd like, and I think the others might well see eye to eye," he added.
Rumours of a full Pink Floyd reunion have increased since Roger Waters and David Gilmour's recent performance together at a charity gala.
The pair stunned guests at the Hoping For Palestine charity gala in Oxfordshire in July when they played a four-song set.
(by Jason Gregory)