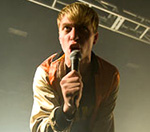 The Drums
singer Jonathan Pierce has said he's "not interested" in what former band mate Adam Kessler is doing.
The guitarist quit the group unexpectedly in September - just two days before The Drums were due to start a US tour.
In an interview with The Independent, Pierce said he believed touring constantly had become too much for Kessler to handle.
He also suggested that his departure was a "blessing in disguise" for the group as they begin work on their new album.
"We don't know what he's doing or anything," Pierce said. "I'm not interested in knowing what he's up to. As natural as it felt for all four of us to come together, it was that same sort of natural feeling when he left."
Pierce went on to say that the band were enjoying working on their new album and believed their new songs were better than the tracks on their debut record.
"It's really exciting for us and it feels like maybe if Adam had stuck around we wouldn't have written these songs," he said.
"It's one of those things that seems like a bad thing but ends up being a blessing in disguise."
The Drums are currently on a tour of the UK and Ireland.
(by Jason Gregory)