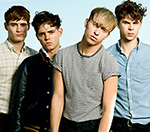 The Drums
went head to head with
Limp Bizkit
as both band's played the Reading Festival yesterday (August 29).
The indie group drew a packed house on the NME/Radio stage, despite huge anticipation for Limp Bizkit's main stage set.
The Drums frontman Jonathan Pierce repeatedly paid tribute to festival-goers for watching their performance, which comprised of songs from their self-titled debut.
But as with their appearance at Leeds festival on Friday (August 27), the band neglected to play fan favourite 'Let's Go Surfing'.
The track's absence was an obvious surprise for festival-goers as The Drums set ended with 'Down By The Water'.
Meanwhile, on the main stage, Limp Bizkit rewarded their huge crowd with a greatest hits set.
Frontman Fred Durst was on energetic form, most notably during the songs 'My Generation' and 'Rollin''.
The band have reformed ahead of the release of a new album.
(by Jason Gregory)