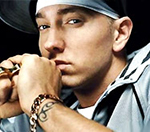 Eminem
has opened up about his previous drug problem, saying he shared many similarities with the late
Michael Jackson
.
At the height of his addiction the rapper told Rolling Stone magazine that he popped between 60-90 pills a day. His 2009 album 'Relapse' was inspired by his drug battle, which began whilst filming 8 Mile in 2002.
"It's very similar to what I've read about Michael. I don't know exactly what he was doing, but I read that he kept getting up in the middle of the night, asking for more (drugs). That's what I was doing," he said.
He added: "My everyday regimen would be, wake up in the morning and take an extra strength Vicodin and it'd be Vicodin throughout the day. Then, as the evening crept up, I'd start with a Valium or two, or three, or four. And every hour on the hour, I'd pop four or five more."
Meanwhile, the rapper is back in the studio with long-time production partner Dr Dre.
(by Holly Frith)