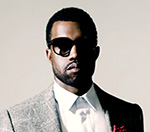 Kanye West
has claimed that his recent interview with
The Today Show
was a "set-up".
The pre-recorded interview, which aired in the US yesterday (November 11), saw the rapper quizzed about his past outbursts involving Taylor Swift and George Bush.
West had already expressed his frustration presenter Matt Lauer's line of questioning on Twitter earlier this week.
And in another series of tweets today (November 12), West continued to vent his anger, but said he felt vindicated that his fans had seen what really happened.
"I'm so happy the world got to see just a small piece of 'the set up'," he wrote. "I blatantly said I'm not performing on a tweet and to everyone around me and the next day they still announced a performance.
"Do you guys see what I'm saying now... this is just a small slice of the day to day bullsh*t that goes on that helps to precipitate the idea that I such an asshole.... cause when I don't perform oh noooow I'm the one that's crazy or a jerk!"
West said he had no hatred for Lauer, and added: "Much love to Matt and the whole Today Show I accept ya'll future apology in advance LOL!"
The rapper is currently promoting his new album 'My Beautiful Dark Twisted Fantasy', due out on November 22.
(by Jason Gregory)