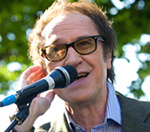 The Kinks
'
Ray Davies
has said
Mumford & Sons
remind him of his former band.
The two acts have collaborated on Davies' new album 'See My Friends', which re-works a number of The Kinks' most famous hits.
In an exclusive interview with Gigwise, the singer said Mumford were unlike any other new acts around today.
"We played the Hop Farm festival together in Kent, and I saw them live and they were great live - a different band completely to most bands," Davies said.
Davies, who selected 'Days/This Time Tomorrow' for the band to re-record, said he shared a lot of "camaraderie" with the group.
"It was great to me amongst a bunch of musicians who have not been put together by a record company or some talent show," he said.
"They're a bunch of people who knew one another and had similar tastes and ambitions with their music, so I found that really liberating. They reminded me very much of The Kinks in that period when we were doing the 'Village Green' and 'Something Else' albums.
'See My Friends' also features collaborations Metallica, Billy Corgan of Smashing Pumpkins, Paloma Faith and Bruce Springsteen. The album is out now.
(by Jason Gregory)