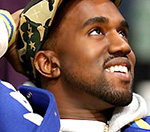 Kanye West
has reignited the controversy surrounding his outburst at the MTV Video Music Awards (VMAs) last year.
The rapper infamously interrupted Taylor Swift's acceptance speech at the ceremony to claim that Beyonce should have won the award for Best Video.
West later apologised over the outburst, and recently said it had made him feel like he had turned into "George Bush overnight".
But the rapper has now seemingly backtracked on his comment, denying that it was an arrogant thing to do.
"If anything, it's selfless," West told Minnesota radio station KDWB.
"I'm walking around now with half an arm, trying to sell albums and having to walk in rooms and be afraid of my food getting spat in, like people going 'I lost all total respect for you', and nobody wants to just sit and look at the reality."
West went on to claim that Beyonce's video for 'Single Ladies' should have been the deserving winner of the award.
"The audacity of it losing anything ... I guarantee if it was the other way around, and Taylor Swift was 15, 12, 15 years into the game, and on her 40th video or 50th video, and she made the video of her career, do you thing she would have lost to a brand new artist? Hell no." West said.
"I'm not pandering to sell anymore records to get people to like me more - I would like people to like me because I'm likeable."
Meanwhile, West made a surprise appearance at the MTV Europe Music Awards (EMAs) in Madrid yesterday (November 7).
(by Jason Gregory)