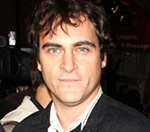 Joaquin Phoenix
has returned to David Letterman's Late Show for the first time since his incoherent appearance on the show last year.
The actor stunned viewers last February when he appeared disinterested with the host's questions.
However, it has since emerged that the interview was part of Phoenix's new mock documentary, I'm Still Here, which follows him as he attempts to launch a rap career.
Phoenix apologised during his return to the Late Show last night (September 22), and insisted the host had not known it was an act.
"You've interviewed many, many people and I assumed that you would know the difference between a character and a real person, but I apologise," he said.
Letterman said Phoenix's appearance in 2009 was "like you slipped and hit your head in the tub".
I'm Still Here, directed by Casey Affleck, is out now.
(by Jason Gregory)