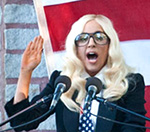 Bookmakers have offered 100-1 odds on
Lady Gaga
becoming US President.
It follows the singer's impassioned speech in Maine on Monday (September 20) against the controversial Don't Ask, Don't Tell law.
The singer urged the US senate to repeal the policy, which bans gays and lesbians from openly serving in the US military.
William Hill are also offering 500/1 on the star replacing Barack Obama as the next president.
"It's a long shot, but if you had asked about Ronald Reagan in the 60s people would have thought you were gaga," a spokesman said.
Despite Lady Gaga's presidential-style speech, the US senate yesterday (September 21) rejected the opportunity to debate Don't Ask, Don't Tell.
(by Jason Gregory)