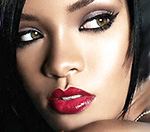 A new song by
Rihanna
was leaked onto the internet by mistake, her record label has revealed.
The track, entitled 'Who's That Chick', emerged online along with a video last week, leading to speculation the song would be a potential single.
But SRP Records said the up-tempo track had been leaked and was only intended fior club use.
"It's a leak. Def Jam is pulling it down as fast as possible. The song is not a single - for the clubs only," SRP Records said in a statement on Twitter.
The label would not confirm whether the song featured on Rihanna's forthcoming new album, 'Loud'.
The follow-up to 2009's 'Rated R' is released in November, and will be preceded by the single 'Only Girl (In The World)'.
(by Jason Gregory)