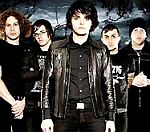 My Chemical Romance
's new album will be called '
Danger Days: True Lives Of The Fabulous Killjoys
', according to HMV.
The music retailer has listed the album on its online website, and stated that it will be released on November 22.
The title and release date for the follow-up to 2006's 'The Black Parade' has yet to be confirmed by the group.
In August, singer Gerard Way revealed that the new album had been finished.
"We just finished the album so we're excited about that," he said. "The second attempt at the album - we're really happy with it."
Earlier this month the band's official website appeared to post a teaser about the new album, but it has since been removed.
(by Jason Gregory)