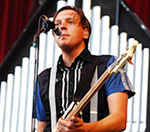 Arcade Fire
delivered a magical performance as they headlined the second night of this year's Reading Festival.
The Montreal-based band delivered a flawless 90-minute set on the main stage on Saturday (August 28).
Taking to the stage on time, unlike last night's headliners Guns N' Roses, Arcade Fire kicked off their set with 'Ready To Start'.
After the song frontman Win Butler alluded to Guns N' Roses late arrival on Friday (August 27).
"How are you doing Reading?" he said. "We're very, very happy to be happy to be here. Thank you for watching. We're punctual at least."
Arcade Fire's set followed a similar path to their headline performance at Leeds last night, and included several songs of their recent number one album 'The Suburbs'.
'Modern Man', 'Rococo', 'Sprawl II (Mountains Beyond Mountains)' and the album's title track all went down well with the large crowd.
Butler and the rest of the band seemed genuinely moved to be headlining to event.
"We've never had a f*cking hit. I don't know what the f*ck we're doing here but until someone comes with a hook were ****ing staying," he said before playing 'No Cars Go'.
After leaving the stage briefly, Arcade Fire returned for a three-song encore, which included a euphoric performance of 'Wake Up'.
Arcade Fire played:
Ready To Start

Keep The Car Running

Neighborhood #2 (Laika)

No Cars Go

Une année sans lumière

Modern Man

Rococo

Intervention

Crown Of Love

Neighborhood #1 (Tunnels)

Sprawl II (Moutains Beyond Mountains)

We Used To Wait

Neighborhood #3 (Power Out)

Month Of May

Rebellion (Lies)

Wake Up
(by Jason Gregory)