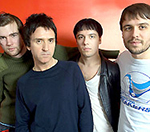 The Cribs
trashed their equipment as they ended their performance at the Reading Festival on Saturday (August 28).
The Wakefield band, who were playing their last gig of 2010, were in high spirits throughout their set on the main stage.
And their jubilant mood came to a head during final song 'City Of Bugs', which saw bassist Gary Jarman slowly dissemble brother Ross's drum kit.
Singer and guitarist Ryan Jarman also threw his guitar into the crowd to huge cheers from festival-goers.
The Cribs played a career-spanning set, which kicked off with 'We Were Aborted'. Other songs included 'Men's Needs' and 'Hey Scenesters'.
Ryan Jarman also mocked Guns N' Roses much-criticised headline performance on Friday (August 27).
"Anyone seen Guns N' Roses last night then?" he asked, before launching into a Guns N' Roses-esque guitar solo.
Ahead of the set's chaotic conclusion, the Jarmans also noted the personal significance of the festival to the band.
"At Reading in 2008 this was our first gig with [guitarist]Johnny [Marr] and this is our last gig, so thanks to you guys for coming out and making it so special," Ryan said.
(by Jason Gregory)