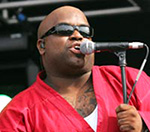 Cee-Lo Green
has called the success of his
new single
'F*ck You' a "pleasant surprise".
The Gnarls Barkley star released the track, a semi-fictional attack on a former girlfriend, online last week.
The video has gone on to become a huge hit on YouTube and even inspired a spoof version from rapper 50 Cent.
"I think it's totally surpassed just about everyone's expectations," Gren told Entertainment Weekly. "We had a clue — I mean, it's a very noticeable song — but this has been extraordinary."
The song, released on has been re-branded 'Forget You' so it can be played on the radio in the UK, is released next month.
It is the first single to be taken from his forthcoming studio album, provisionally entitled 'Cee-Lo Green Is The Lady Killer'.
The follow-up to 2004's 'Cee-Lo Green... Is the Soul Machine' is due out later this year.
It features collaborations with producers Paul Epworth, Salaam Remi and Fraser T. Smith.
(by Jason Gregory)